town meeting
seventy­six


LEADER'S MANUAL




As the 1976 Bicentennial Anniversary approaches many national leaders are voicing the need for citizens to participate in rethinking the nation's purpose for the next two hundred years. The Bicentennial Town Meeting is a practical format for concretely engaging the citizens across the nation in planning America's future. Locally sponsored one day meetings in five thousand communities are reflecting on national issues, relating them to their localities, and creating proposals for the future of the nation using common research methods.


Copyright 1975 The Institute of Cultural Affairs

All Rights Reserved.

THE PROFOUND ROLE OF THE ORCHESTRATOR

1. THE FACILITY IMPACT

A. Auditorium set­up and decor.

B. Work­shop room set­up.

C. Keeping rooms straight.

D. Final cleanup.


II. THE WELL PREPARED LEADERSHIP

A. Final training of Town Meeting Leaders.

B. Town Meeting Leader's style.

C. The crucial MC role.

D. Enabling the leadership.


III. THE DRAMATIC BEGINNING

A. The Registration Style.

B. The Beckoning decor and entertainment.

C. The MC Welcoming.

D. The Special Guests.


IV. THE COMPREHENSIVE MEDIA COVERAGE

A. The Press Registration.

B. The Media Kit.

C. The Media Follow­up.

D. The Assigned Liaison Person.


V. THE RELEASING SPINS

A. Objective Presence.

B. Global Affirmation.

C. Sociological Challenge.

D. Style of Profundity.

VI. THE EXTENSIVE PARTICIPATION IN THE WORKSHOP.

A. The Task Context.

B. Permission giving style of clear instructions.

C. Broad base of engagement.

D. Forging the Team Spirit


VII. THE DRAMATIC INTERLUDE IMPACT

A. The Attractive Buffet.

B. Thought through Crowd Control timing.

C. Well Orchestrated entertainment.

D. Introduction of Guests


VII. THE FINAL PLENARY DRAMA

A. The Guild Presentations.

B. The Corporate Reflections.

C. The Document Presentation.

D. The Orchestrator's Send Out Spin.


IX. THE "LIKE CLOCKWORK" FLOW OF THE DAY

A. Effortless transitions.

B. Smooth Production.

C. The controlled Time­line.

D. The "hidden hand " style of the Orchestrator.


X. THE CELEBRA TION OF VICTOR Y

A. The Claimed Miracle.

B. The Day labeled Success.

C. The rehearsal of Citizen Power.

D The revealed Future Direction
CONTEXT.

This packet of materials has been prepared to enable Orchestrators as they anticipate participating in the explosion of Town Meetings across the USA this Spring. The above outline is simply an overview of the Orchestrators Guide. Spinning and sharing insights will be helpful in training new Orchestrators.

The two talks were given at a training session at Chicago Nexus and have been evaluated to be appropriate in length, content, and style, for upcoming Town Meetings. They are not intended to be "copied", but should be used as guides to release potential Orchestrators to create the talk necessary for the local situation.
THE NEW WORLD

GROUP Anxious about the day, and wondering what it's all about.
MOOD


PURPOSE 1. To focus the community on the historical perspective of this Town Meeting.
2. To expose these as profound times filled with resurgence.
3. To create anticipation of hard work and good fun.

PRESUPPOSI TIONS
1. A common set of operating images is helpful in the workshops.
2. Everyone has an awareness of this new world.
3. A global context gives significance to this Town Meeting.


INTRODUCTION: I appreciate the opportunity of being here. Greetings to other Town Meetings across the nation. We've experienced great changes in 30 years.

I THESE ARE PROFOUND TIMES

A. This is a time of great change.
B. This is a time of crisis.
C. This is a time of global relatedness.
D. This is a time of new adventure.

II THIS IS A RESURGENT MOMENT.

A. The future is created.
B. Those who care are emerging.
C. There are no easy answers.
D. The experts are local people.

III THERE IS AN EMERGING NEW LOCAL SETTLEMENT.

A. Only here will issues be resolved.
B. Local Community is where American history has been made.
C. Perseverance of local men and women formed our nation.
D. This same challenge is ours today.

IV THIS IS A GREAT TOWN MEETING DAY.

A. This is the time to dig under the superficial problems.
B. Nothing new about what I have said.
C. We are about creating challenges and proposals.
D. Have a great day as a community.


THE NEW WORLD

Thank. you very much Madame Chairman, honored guests, Mayor Bilandic, Alderman Cohen and all of you who have joined together on the occasion of Uptown's Town Meeting.

I bring you greetings from across North America, where 18 other Town Meetings are going on in 15 other states. They're local people gathered for the same kind of event as this one here today. It is an honor for me to be here at this historic occasion in these historic times with this gathering of 100 people who care about this community, as this nation moves into its third century.

I was reminiscing a while back about my High School days. I went to High School in Lima, Ohio, where there were two small High Schools in town. Now there is one large modern complex. Anyway, on this one occasion. I was home from school for the Spring vacation. It was in April, 1945, and I was painting a bedroom in the upstairs of our house. I was listening to the radio turned up loud so that we could hear the occasion of Franklin Delano Roosevelt's death. As I was reflecting on that event I realized that it was over 30 years ago. Then other, like events passed through my mind. The death of JFK, where we all as a whole nation watched the event on color television. What changes have taken place in 30 years! It's phenomenal! Someone said that more changes have taken place in the last 30 years than in the last 2000.

Not more than 15 months ago the political governments of some 11 nations toppled in a matter of three to four months! Tremendous political changes in such a short time! And the technological changes like Telstar computers, jets, frozen foods ­ just to name a few ­ a bare minimum of changes.

In my elementary school days, my teachers drummed into me that our founding fathers went into a new world, entering upon a vast wilderness, and built a new human settlement. They constructed a brand new nation for freedom. They dedicated themselves to building a new order to become a sign to people of all nations and they believed in it. In my school days, and still today, I believe in it.

You may recall when you've looked at a dollar bill ­ on the side that's got a triangle on it. On the top of it you see an eye; and written on it is something about a new world order that is coming. The Latin inscription is " Novus Ordo Seclorum" ­ a new order of the world. This was said 200 years ago, yet the same historic function is present with us in our times. We are faced with a new wilderness, constructing new human settlements requiring new responses at every moment.

We're challenged by a myriad of sociological crises as well. We've all experienced these and could list them quickly: education collapse! family crisis, community identity, and economic uncertainty. We're in such a global situation in every one of our communities, that it's beyond our ability to articulate.

We are inextricably related to one another across this whole wide world. I was riding recently on a TWA airplane, and I looked down on the cover of their magazine where it said in bold print, "The Atlantic River". What a great image of the closeness of the world's people today ! That picture of the earth from the moon has become so familiar to us that almost any one of us can imagine ourselves in that picture looking back at the earth, at my home, my world, my globe, my place. The whole thing is my ­ our ­ planet.

It's at a moment like this that we become aware that it's a fantastic time to be alive, a moment of resurgence, bubbling up, filling us up; a moment we are suddenly in, and is strangely within us. It's a dawning that our future is a future to be created, and that, as in every moment in history, there are those who care like you and I emerging to plan our future.

It's a fantastically confusing and ambiguous time. It is experienced like a big bowl of spaghetti when you're looking for a certain answer and you try to follow a lead and find it all wound up with a bunch of other problems. Sometimes you pull out a piece of spaghetti, and you never know if it's going to come out long and dangle half way across the room or whether it's just going to come out on the short end. Nothing's clear. Just take a very simple example like aerosol cans. They've aided us in so many ways, and now we wonder just how harmful they really are. Then there are other large issues like world hunger.

Just a short time ago, we witnessed a panel of experts, so called, gathered to discuss the topic of world hunger, and one such expert flabbergasted us all when someone directed a question at him, and he looked, staring into space, and finally said, "I don't know the answer". The he turned to the whole audience and said, "You know, my colleagues don't know the answer either."

What a time we're in ! No one is surprised that there are no answers. Everyone knows that it's a time to act ­ a time to participate. This awareness hits us in a local way every day. We're here because there are issues to be dealt with, and the only question is how they can be resolved and who is going to solve them. We know it's local people like you and me who are going to do these solvings; and the answers are up to you and me in groups like this.

Local man has always dealt with the issues. When we look back historically to the time of the Plymouth colony, a local community tackled the issues related to religious freedom. Two hundred years ago, people in Boston. Concord, and the Carolinas dealt with the new democratic formation, and it was local people. Local people 100 years ago formed the economic stability our nation has based itself on, as they settled the West and the cities

The perseverance of those local people formed our nation, and became a sign for local people everywhere.

The Town Meeting today is going to be a profound event. We'll dig beneath the superficial problems to get to the heart of the issue, and everyone will participate ­ not by standing on a soapbox or screaming at one another ­ but by participating and sharing concerns with one another. Using the format of discussing the underlying challenges and articulating the proposed directions, it'll be a great day of fellowship, hard work, and fantastic celebration. I feel like Thomas Jefferson felt when he said, "I went to a Town Meeting, and I felt the ground shake under my feet ! " It's a moment like that which you and I face. The Founders of our nation gave us a revolutionary heritage. They dared to pledge their lives, their fortunes, their energies, and their sacred honor to each other. That same challenge is ours today, to pledge to ourselves and our future generations the fulfillment of that heritage.

There is nothing new in what I have said, nothing you didn't know, for we're part of a vast Town Meeting taking place in our time. Have a great day !

THE NEW HUMAN TALK

GROUP MOOD
Elation over work accomplished. The entertainment and singing has added to the high.

PURPOSE
1. To empower the group with a pride in their heritage in relation to the present call upon them.

2. To create a decision on the part of the group to deal with writing proposals in the afternoon workshop.

3. To make the group aware that they are the new citizens.

PRESUPPOSITIONS
1. Talking directly about the malaise and meaninglessness will collapse the group.

2. The focus of the Talk is on decision.

3. Globalizing the group is done through the local and the indicative.


THE NEW HUMAN

INTRODUCTION: The nation is 200 years old. Those who are 50 yrs (1/4), 70 yrs (1/3). 90 yrs (1/2) of nation's history.

I WORLD PRODUCES A NEW HUMAN.

A. The new world of our forefathers demanded a new human.
B. They demonstrated local man could govern himself.
C. 20th Century is a new world demanding a new human.
D. Issue ­ How local voice shapes complex society.

II THE FACE OF THE NEW CITIZEN.

A. The new citizen is here ­ today.
B. The new citizen cares for the community.
C. The new citizen acts out of his care.
D. The new citizen lives every moment to its fullest.

III THE NEW CITIZEN IS FOUNDATIONAL REBIRTH TO MEET THE TIMES.

A. Global Citizenship just happened.
B. New man, new woman ­ out of the need of the times.
C. The gifts of all ages are needed.
D. The ability to reinvest the situation with profound meaning.

IV MARKS OF THE NEW CITIZEN.

A. The new citizen is effective, tactical, corporate, and motivated.
B. The review of the workshop task.
C. The new community story, song, symbol.
D. The new citizen enjoys engagement.

THE NEW HUMAN


This country as a nation is some 200 years old. I'm Georgianna McBurney, and I'm some 50 years old. Is there anyone else here today who is on or about 50 years old ' Do you realize that you and I have lived one quarter of our nation's history Is there anyone here who is around 70 ' You who have raised your hands have lived one third of the nation's history. By chance is there anyone here who is around 90 ' Would you stand up and give us your name. You have participated in shaping almost one half of this nation's history. Wouldn't we all love to sit down and talk to ______ The stories you could tell us !

Today we live in a new world different from anything our forefathers could imagine. But it's well to remember that the settlers of this country came to a new world also. To them it was a strange, alien, unsettled land. And who were these settlers The poetry on the Statue of Liberty describes them as the "tired, the hungry, the poor, those yearning to be free, the refuse of the teeming shores of an old world". With few exceptions, one imagines they were those the old world was not exactly displeased to see go. And they came here. To survive in their new world, they had to become new human beings. They not only survived, they did something that had never been done before. These new human beings showed the jaded old world that the common person had the wisdom, gifts, and ability to freely govern himself. The new human of 200 years ago didn't need Dukes and Earls to tell him what to do. Amazing ! And the idea spread and impacted every nation of the world.

Today, you and I find ourselves in a new world, highly complex and inter­related. You might say that the second act has started of the dream that began here 200 years ago. For our new world today demands a new human. The issue again, of the second act, is how the wisdom and creativity of local man become the voice in our time that shapes the destiny of the community, the nation, and the planet.

And who is that new human ' ­ the new citizen, if you will ' If we had a mirror behind where I'm standing, you would see the new citizen. For the new citizen is here in this room.

The people who care about their community ­ the ones who came today ­ that's the new citizen. One woman in a Town Meeting I attended put it well when she said, "We've discovered today, that 'they' is 'we', and 'over there' is 'here', and that 'my community is a great community because I decide'."

And the new citizen is not afraid to act on his words. I want to tell you about a hero of mine. Dick is a spastic, confined to a motorized wheel chair that has three speeds, slow, average, and too fast. He lives in a tough neighborhood in Chicago, and the last year he has spent all his time working in the community. One day, he and his wheelchair were traveling the street when a passing thief grabbed the wristwatch off Dick's wrist. The thief leaped on a public bus. Dick threw his wheelchair into high speed, and stopped right in front of the bus. The bus driver came out and told Dick to "move that wheelchair". Dick replied "not until that thief gives me back my wristwatch". Now the bus driver immediately spotted the 'underlying challenge', and being bigger than the thief retrieved and returned the watch to Dick. Dick returned to the sidewalk and the bus and the thief went off to wherever buses and thieves go. We asked Dick shortly after, "Whatever possessed you ? You could have been killed !" He said,`, A year ago I wouldn't have done anything, but it's different now. Things like that shouldn't happen in my community." The new citizen cares and he translates his care into action

And because of his care and engagement, the new citizen is the one who knows "Here where I am is where the action is", and therefore every moment is a great moment. My druggist exemplified that for me one cold, rainy, miserable spring day. As I started to leave the store he called out "Have a great day on this finest of days". I stopped in my tracks, looked at him, raised a cynical left eyebrow, and he added, "it's the only day we have". You know, he was right. That day would never come again, and nor will this one. It's the only day we have and it's a great day to be lived to its fullest.

A kind of fundamental rebirth has been going on to create the new citizen. That kind of metamorphosis, as you know is painful as well as exciting. One aspect of that is that you and I showed up one day as Global Citizens. No­one came around and asked us if we wanted to be global citizens. If they had, I for one would have voted no. But I wasn't asked. It just happened. One day, thousands of miles away, people living on the sandy deserts of the Middle East turned off the oil spigots. You and I got instant clarity, as did people everywhere, that we live on a planet so inter­related that the fate and destiny of any part of this world affects all of us. A newspaper cartoon said it well. It showed a picture of a lifeboat containing three people. One end of the boat was sinking and the man in that end looked panic stricken. The other end of the boat contained two calm and casual people, each holding a martini glass. One said to the other, "That chap seems to be in a spot of trouble". If one part of the earth is in trouble, the rest of the world feels it, if one part of the nation is rocked with disaster, the whole nation is affected. If one part of the community goes under, the whole community suffers.

In the midst of this crisis, produced by this inter­relatedness, another aspect of this foundational metamorphosis is becoming evident. A new man and a new woman is emerging. The new world in our time demands the gifts, skills and wisdom of every human being, male and female, not because it's nice but because it's necessary. The only relevant question, to use the lifeboat analogy, is "Can YOU help bail out and rebuild the boat ' "

And to bad! out and rebuild the boat requires the participation of all ages. It's not only nice to have young people here today, it's necessary. For what society can do without its dreamers, which youth so often represent. And what society can do without a conscience, which the elders with their great wisdom and past experience so often represent. And what society can do without its practical planners and doers, which the young and middle adults bring to the community. To build a community we can Pass on with Pride requires the efforts of all age groups.

It was a retired elder who brought a Town Meeting to her town in Wisconsin. She kept plaguing the City Council They firstly told Muriel that she deserved after all these years of work, to rest and enjoy herself, and that they would handle the business. In other words, "Go away,". Her reply was "I didn't live these seventy years to start vegetating now." They had a Town Meeting! Now Muriel revealed another aspect of the new birth going on. She had taken the situation of retirement and no job to go to every day, with nothing she had to do, and reinvested it with new meaning. She said, "retirement doesn't mean to go away from life, it means the freedom to plunge into life."

She had a good precedent, for Benjamin Franklin did the same thing to the Continental Congress in one of their bickering sessions that threatened to kill forever the idea of a republic. Pointing to a chair on which was carved a half sun sitting on the horizon, Franklin stated,"! have decided that sun is rising not setting ­ this nation is beginning. not ending."

And what are the marks of the new citizen ' The new citizen is effective, tactical, corporate, and motivated.

That is, the new citizens are always about discerning the challenges that face their community, as we did this morning. The new citizens are about creating the proposals that free the community, as we'll be doing in our workshops this afternoon. And the new citizens are always creating the stories that allow others to participate. One group this afternoon will bring­forth a story in song, words and art, that reclaims the heritage of this community, holds its present struggle, and heralds its future promise. They are our Benjamin Franklins who articulate what the challenges of this morning and the spirit of this group are saying to us. That the destiny of this community is just beginning not ending.

Finally, don't you suspect that the Washingtons, Jeffersons, Franklins and Adamses of 200 years ago were having the time of their lives. They were fully aware, as Washington put it, "We are treading untrodden paths." I suggest to you that this day is a historic moment. We can do no less than they did. So I charge us to enjoy ourselves this afternoon.
THE
WORKSHOP PROCEDURES




THE TALKS:

THE FUTURE AND THE AMERICAN CITIZEN

I. THE HUMAN CRISIS
A. The Changing Times
B. The Limited Engagement
C. The Vocational Collapse
D. The Empty Meanings

II. THE HUMAN REBIRTH
A. The Emerging Spirit
B. The Life­giving Ambiguity
C. The Responsible Care
D. The Human Fulfillment

III. THE HUMAN FOUNDATIONS
A. The Social Relatedness
B. The Four Lifetimes
C. The Male/Female Tension
D. The New Rationality

IV. THE NEW CITIZEN
A. The Indicative Ethic
B. The Proposal Writer
C. The Methods Expert
D. The Futuric Visioner


This lecture attempts to engage people in reflecting on the new kind of human being that is emerging in our world today. It describes the sense of crisis in us all as a sociological rather than psychological reality. It demonstrates that in the heat of engagement in this complex new world of ours a rebirth of human spirit or drive is occurring that is causing us to recover in a profound way the basic givens of human life. Finally, the lecture probes the practical implications of this new humanity for the next 200 years of this nation.
10
THE WORKSHOPS:
SESSION I ­ THE CHALLENGES


THE WORK FLOW


INCLUSIVE OBJECTIVE PRACTICAL TASK

Session I aims to release local he practical teak of this workshop
citizens to participate authenti­ session is to organize the complex
cally, in shaping the American issues of our time and name them as
destiny by objectifying their the economic, political and cultural
intuitions about society and challenges facing the nation.
allowing them to state the socio-
logical challenges which face the
nation.


THE PROCEDURAL OUTLINE

INTRODUCTION:

Reflect on what's going on in society today.

1. Brainstorm 20 economic, political and cultural issues.

2. Select the 10 key economic, political and cultural issues .

Plot the 30 key issues on the social process triangle and identify the five to seven clusters of
issues.

4. Name the clusters as economic, political or cultural challenges facing the nation.

CONCLUSION:

Reflect on the challenges and the actions that they suggest.
THE WORKSHOPS:
SESSION II ­ THE PROPOSALS

THE WORK FLOW


INCLUSIVE OBJECTIVE PRACTICAL TASK

Session II aims to release the The practical task of this workshop
responsible creativity of local session is to articulate a set of
citizens in authentic participation practical proposals which will
in making decisions about the effectively meet and deal with
shape of America's destiny. the economic, political and cultural
challenges facing the nation.




THE PROCEDURAL OUTLINE

INTRODUCTION:

Reflect on the assigned challenges and where they are being dealt with in society.

1. Organize the assigned challenges into 5 to 7 major challenges.

2. Brainstorm 15 to 20 economic, political and cultural proposals for each challenge and star the five most critical proposals for each challenge.

3. Moving across the challenges, organize the proposals into 5 to 7 arenas.

4. Working in groups, delineate 1 to 4 proposals in each arena, and articulate each in a one­sentence statement.

CONCLUSION:

Report to the Guild and discuss a briefly the local implications of your work.
12
THE WORKSHOPS:
SESSION II­A THE NEW STORY



THE WORK FLOW

INCLUSIVE OBJECTIVE PRACTICAL TASK

The story workshop aims to release The practical task of this workshop
local citizens to experience the session is to create a story, song,
story of this nation as a great slogan and symbol that recaptures
story and one that needs to be the significance of the past and
retold for our time. sets the course into the future.





THE PROCEDURAL OUTLINE

INTRODUCTION:

As a group reflect on events that produced great songs.

1. Brainstorm images for the nation's future.

2. (Break into groups and) continue the brainstorm.

3. Write and revise the story, song, symbol or slogan,

4. Share the work as a Guild and reflect on its implications for the Bicentannial,

CONCLUSION:

Summation and send out to the Plenary.
13


THE DYNAMICS OF CORPORATE WORK

The Town Meeting will operate as a single group divided into four guilds. The total group will gather to open and to close. Lunch will also be as a total body. The workshops will be done in the four guilds. In the morning each of the four guilds will work to discern the social challenges facing the nation. In the afternoon Guild A will take the economic challenges from the morning and create a set of proposals for them. Guild B will do the same for the political challenges and Guild C for the cultural. Guild D will create a story, song, slogan and symbol for the Bicentennial Era.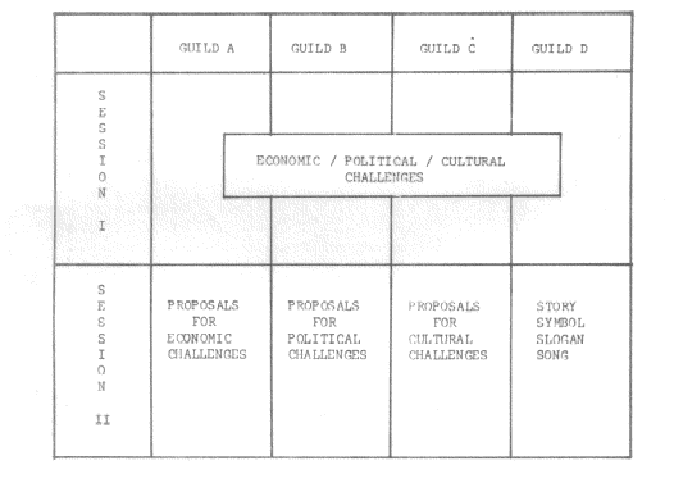 THE
EMCEE SCRIPT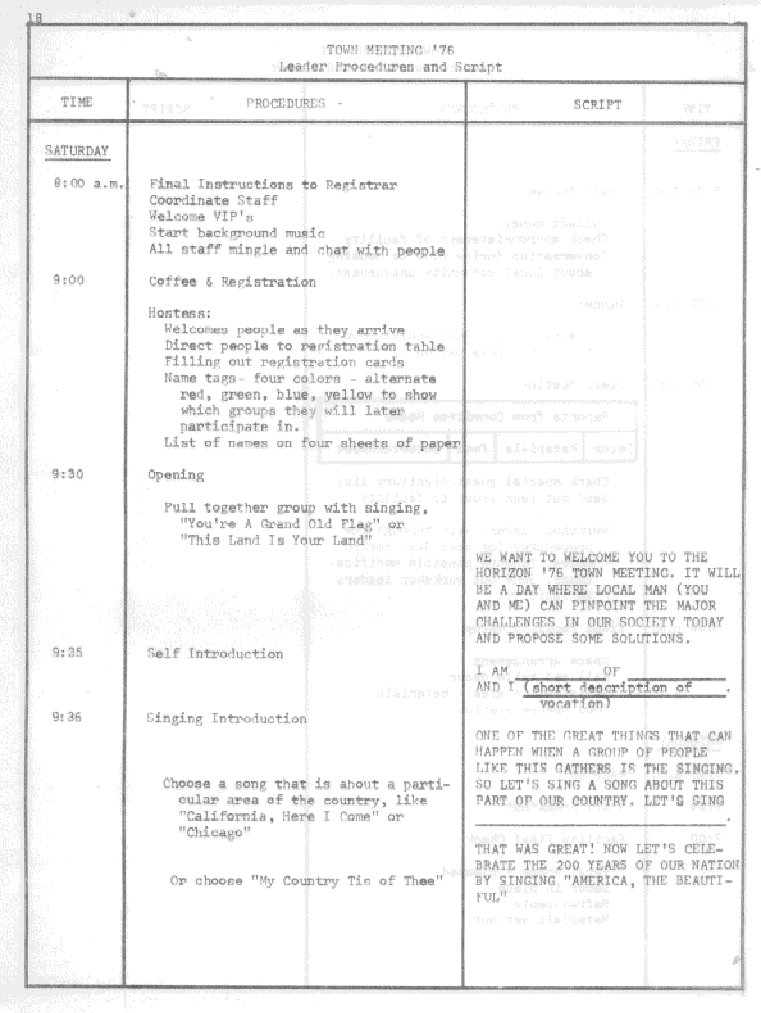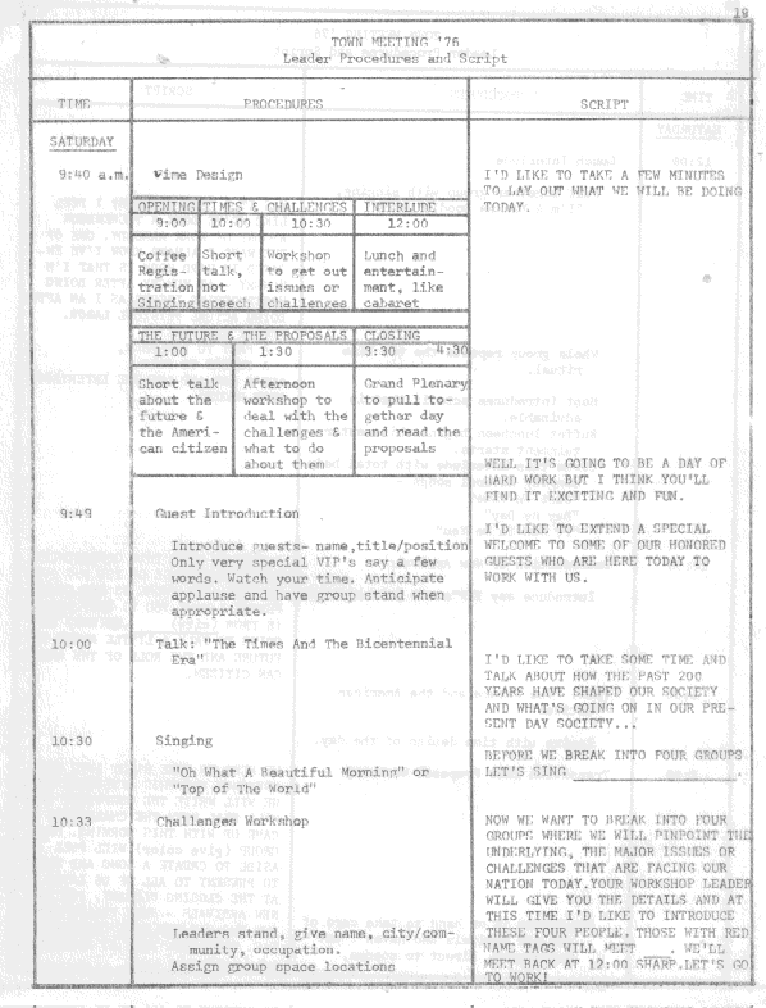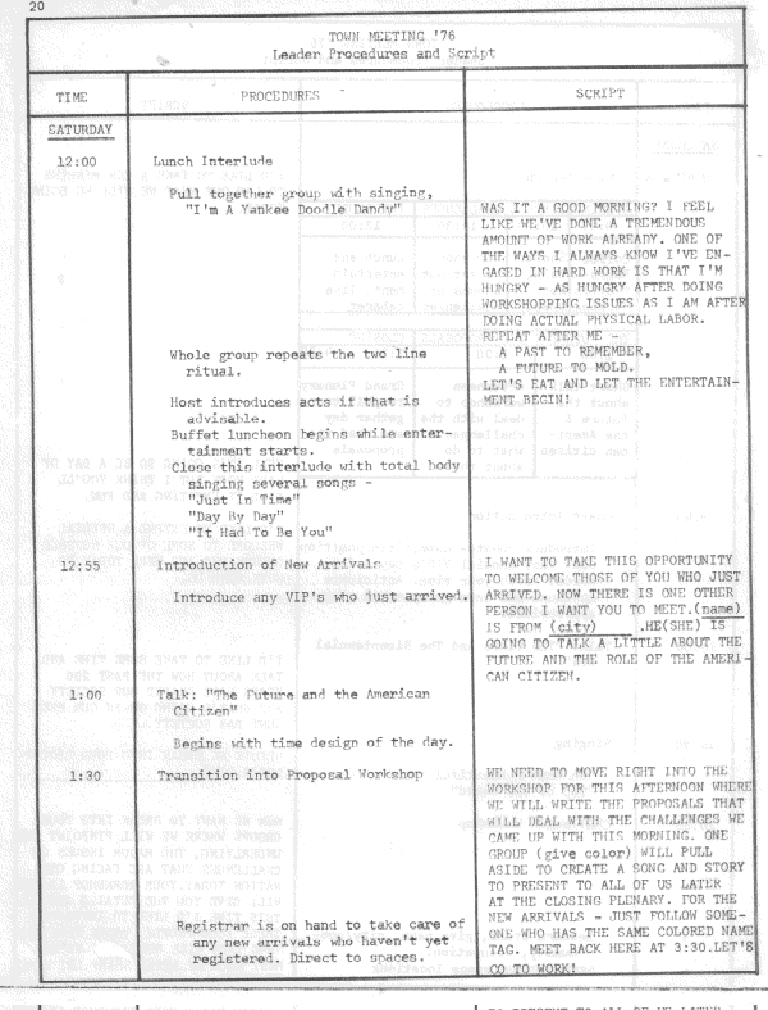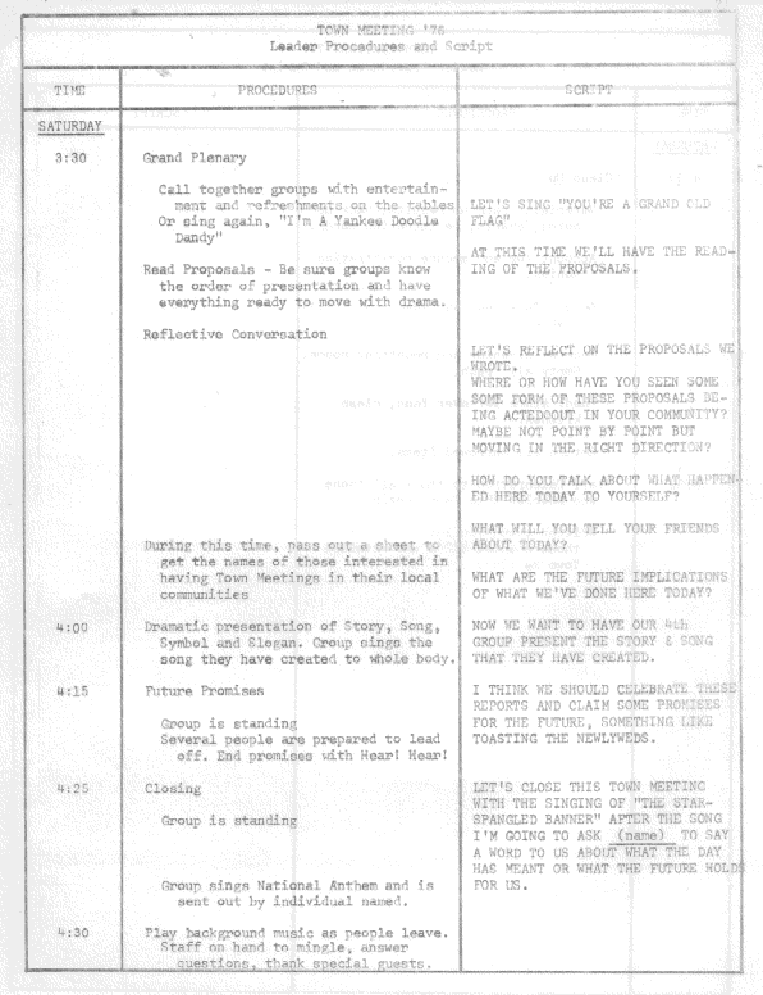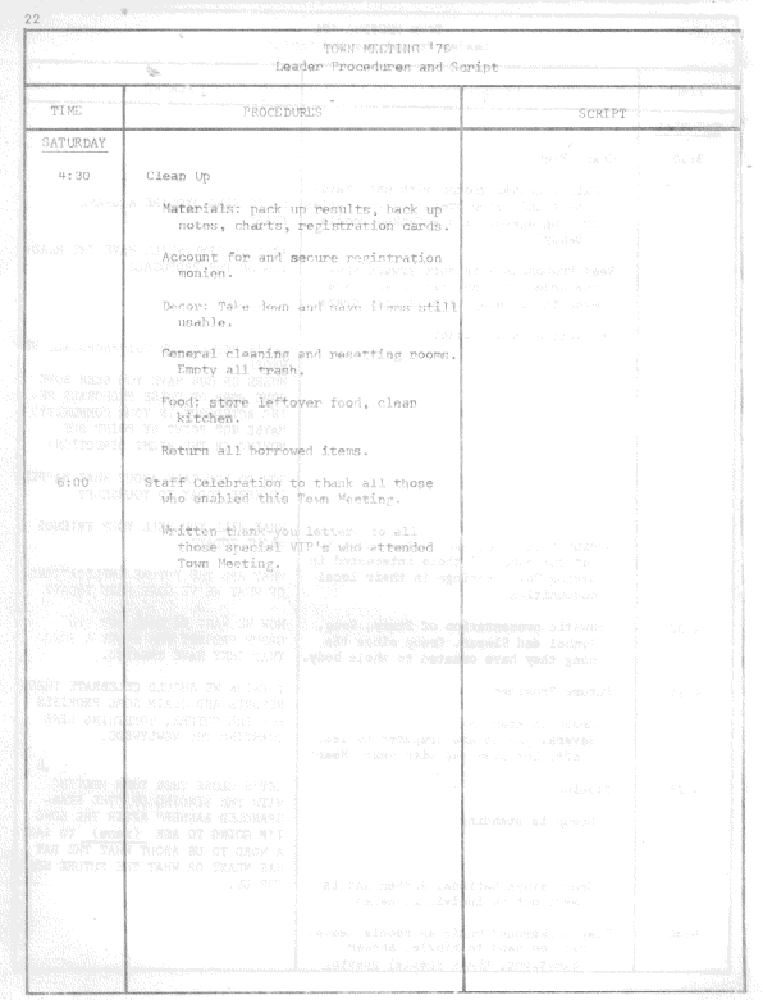 THE
WORKSHOP PROCEDURES


SESSION I ­ THE PRESENT CHALLENGES
The task of this workshop session is to name the major challenges facing the nation. This will be done by first orienting participants to the Social Process triangles as an analytical tool for discerning the economic, political and cultural issues of our times. Th. ten key issues in each arena will then be selected and plotted (or located) on the third level of the triangles. Clusters (or groupings) of issues will then be delineated. The guild will divide into groups according to the number of clusters and decide what the underlying challenge is within each cluster. Sentences will he written and the guild will re-gather to report on the completed work.

PRELUDE ­ INTRODUCTION AND ORIENTATION TO THE SOCIAL PROCESS TRIANGLES
1. Spin for a minute on the greatness of such a day when concerned citizens can come together and celebrate the 2OOth anniversary of America's struggle to become a nation by participating in the creation of proposals which will give direction and form to her future.
2. Give a brief context for singing and sing, "On The Street Where You Live."
3. Indirectly reflect on the talk by asking:
Let's reflect for a minute on the talk..
­What's going on in the world? the nation? your city?
­What are the critical concerns that are significant for the future of this country?
List responses on the chalkboard or butcher paper.
4. Have group turn in their workbooks to the social process triangles. Give a contextual statement saying that these are human dynamics that are always present in any society. The Economic is the foundational or sustaining dynamic of life and includes Resources, Production and Distribution. The Political is the organizing or decision making dynamic and includes the processes of Order, Justice and Welfare. The Cultural is the rational or illuminating dynamic and includes the processes of Wisdom, Style and symbol. Ask:
­Where on the triangles would you locate any of the concerns we have mentioned.
­What does this exercise tell us about the issues facing society today?
5. Talk through the flow of the day and briefly describe the intent and task of each session. This morning wP will he naming the challenges facing our nation today and this afternoon we will be naming the practical proposals for meeting these challenges.
6. Context the morning session. (see the above paragraph)
26


I. INDIVIDUAL AND CORPORATE BRAINSTORM OF ECONOMIC, POLITICAL AND CULTURAL ISSUES

7. Context this step by defining and illustrating "brainstorming" and "issue".
a) Brainstorming is a method which gets out a lot of data quickly. b) It involves trusting your own intuitions and honoring the wisdom of your colleagues. c) There are no right answers. d) It is not a time for discussion or evaluation of the various pieces of data but an opportunity to get everyone's wisdom out before the group.

a) An Issue is a statement which holds the tension between a problem and its solution. b) It articulates the social dynamic present which prevents a concern from being resolved. c) It holds both the creative and uncreative elements. d) An issue both articulates the contradiction and points toward the solution. e) To consider issues behind our immediate concerns reveals action necessary for long­range, effective resolution.

Example: A concern is hunger. Issues behind that concern include 1) inadequate food distribution and 2) competitive political systems.
8. Have each person list in short phrases 3 Economic, 3 Political and 3 Cultural issues facing our nation today. Star most critical one in each of the 3 arenas.
9. Ask three scribes to come to the front of room. Then go around room having each person name one issue and the arena within which it is located. Alternate arenas­first person gives an Economic issue, 2nd gives a
Political issue, 3rd gives Cultural issue, etc. Scribes will put data on 3 sheets of butcher paper (E­P­C) attached to the wall.
10. List approximately 20 issues in each arena. Ask for critical issue that have been omitted and questions of clarity?

II. SELECTION OF TEN KEY ISSUES IN EACH OF THE SOCIAL PROCESS ARENAS

11. Proceed now to the selection of the key issues. Enable participants to select these by suggesting questions to ask of the brainstormed issues: ­Is this an underlying issue? a real issue? Does it get beneath a general concern to the heart of the matter? (rather than stating the shortcomings of a particular situation or event)
­Is the issue objective and sociological? (rather than just a statement about the general condition of mankind today)
­Is this issue key in terms of the future of our nation?
12. Ask the group to individually select and indicate with a "+", the 3 key economic, political and cultural issues with which this country must deal.
13. Taking one of the three arenas at a time, have several people name the three key issues they selected. Ask for other critical issues that have been omitted in the selection process.
14. Talk through the selected issues in terms of which ones are aspects of others and can be subsumed under them and which ones are stating a real issue. Restate issues where necessary and corporately consense on the 10 key economic, political and cultural issues.
15. Number the issues 1 ­ 30.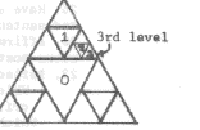 III. PLOTTING AND CLUSTERING THE KEY ISSUES ON THE SOCIAL PROCESS TRIANGLES

16. Context the method of plotting:
l) Plotting is a way of setting an issue in the context of universal model.
2) Plotting is a way to get objectivity.
3) Plotting gives us a screen through which to look at reality our present actual situation.
4) Plotting is the process of locating data within a rational framework -
the Social Process Triangles
17. Taking the 30 issues one at a time ask:
­To which 3rd level social process is this issue most directly related?
Locate issues on a large wall social process triangle with a dot, its number and a key word or two in its name. Use a green dot for E issues, blue for P, and a red for C.
18. Identify 5­7 clusters or groups of issues by their visual proximity on the triangles.
l)Let your eye roam over the plotted triangle as over a painting.
2)Lightly draw a line around issues that appear close together.
3)Where there is a question of whether an issue goes in one cluster or another, read the name of the issue. ( It is not necessary to include all the issues in the clusters.)
4)Decide on the 5­7 clusters and finalize the lines around them with dark lines.
19. Quickly give each cluster a name.


IV. STATING THE PRESENT CHALLENGES FACING OUR NATION

20. Explain this step by saying that a challenge is a way of stating the underlying issue as a key to unlocking the future. For instance, in the issue of inadequate food distribution, the challenge facing us is to create an adequate global food distribution network. We are now ready to look inside our clusters to identify the 5­7 (depending on number of clusters located ) major challenges facing our nation. Explain that we will be working in groups. Each group will be dealing with one cluster of issues.
Talk through the procedures for group work:
l)Review cluster by reading through the names of the issues within it. List the issues on butcher paper and in individual workbooks.
2)Ask yourselves ­ l)What is the one challenge underlying this cluster of issues? What is society objectively, sociologically and concretely over against? Talk through the issues in order to determine the challenge.
3)Give the challenge a 3­word title. Write a sentence which clearly articulates the challenge.
4)Edit and refine. Put on butcher paper 3­word titles and sentences.
21. Count off by the number of clusters. Name meeting spaces and move to groups. (Rotate among groups to enable work and keeping to time allotment) At the end of 15 minutes call total guild back together.
28

POSTLUDE ­ GUILD REPORTING PLENARY OF THE MAJOR CHALLENGES

22. Gather as a total guild. Tape challenge names and sentences to wall in front of room.
23. Context and sing, "It's a Grand Night for Singing."
24. Context the plenary as:
1) A time to report on work accomplished.
2) A way of summarizing and turning group focus into one.
3) A way to stand back and reflect on total job done.
4) A time of celebrating the wisdom and work of the group.
25. Have a spokesman from each group read the challenge title and sentence, Ask for questions of clarity and comments.
26. Affirm the wisdom and work of the group in whatever way seems most appropriate.
27. Reflect on the work of the morning: suggested questions­
­Which challenges strike you as most powerful? Most critically demanding our attention?
­Which challenges already suggest to you concrete actions or ways of meeting these challenges head­on"?
­Which challenges are people already moving on? ready to move on?
28. Reflect on the morning:
­What did we do this morning?
­What did you learn?
­What was exciting or new to you?
29. Announce lunch and the noontime entertainment. Say that the afternoon session will begin with a talk at 1:00 p.m.
30. Send­out to lunch after singing, "You're a Grand Old Flag."
29
SESSION II ­ THE PRACTICAL PROPOSALS


The task of this session is to create a set of practical economic, political, and cultural proposals which will effectively meet the challenges facing the U.S.A. The work will be done in four guilds ­ Guild I will write proposals for the economic challenges, Guild II ­ the political, Guild III ­ the Cultural. Guild IV will create a story, song, symbol and slogan for this community within the context of the nation and th. Bicentennial Era. The first step in the proposal workshop will be to pull together the 4 sets of challenges in a guild's arena into one set. Initial proposals for dealing with these challenges will then be brainstormed. The key proposals will then be selected and reorganized into practical proposal arenas. Using the data within each arena, small subgroups will create one to four proposals for effectively meeting each challenge. Proposals will he titled and sentence descriptions written.

PRELUDE ­ PULLING TOGETHER FOUR SETS OF CHALLENES INTO ONE



1. Gather as a guild and sing "On The Street Where You Live" And "I'm A Yankee Doodle Dandy."
2. Review the flow of the Day:
3. Talk through the task of this session. (Refer to the above paragraph.
4. Review the challenges in your guild's assigned arena. Read each of the four sets of challenges from the morning's work. Read both the titles and sentences and list on butcher paper and in workbooks.
5. Discuss and pull together the four sets of challenges into one set of 4.
l) Decide which challenges are really different ways of saying the same thing and decide on one statement.
2) Determine which challenges are different aspects of one major challenge and state that one major challenge.
3) Identify those challenges which can he subsumed under another.
4) Retitle and restate the 4­5 challenges for your assigned arena (E­P­C).
6. Reflect for a minute or two on the challenges:
­Where have you seen individuals or groups already dealing with these?
­With which challenges have we not yet dealt?
30



I. BRAINSTORMING INITIAL PROPOSALS FOR MEETING THE SOCIAL CHALI.ENGES

7. Cont~xt this step as using th. method of brainstorming to get out as many ways as possible of practically and effectively meeting the challenges which have been named. Pick a challenge and illustrate what is meant hy a "proposal for meeting this challenge" by giving an eeonomic, political and cultural example. At this point it should be mention ed that although a particular issue or challenge may he located in the economic arena of society, its solution may well lie in the political or cultural arenas.
8. Have the guild individually list one economic, one political and one cultural proposal for meeting each challenge.
9. Ask 3 scribes to come to front of room and record brainstorm data for each challenge. Go around room having first person name an economic proposal for meeting first challenge, 2nd ­ a political, 3rd ­ a cultural, etc. Get up a list of at least 20 proposals for meeting each challenge.
10. Ask for crucial proposals that have been omitted and questions of clarity.

II. SELECTING THE 5­7 KEY PROPOSALS FOR MEETING EACH CHALLENGE

11. Context the method of selecting the 5­7 key proposals for meeting each challenge by suggesting sev, ral criteria to use as a rather intuitive value screen in evaluating the brainstorm data.
1) Inclusiveness­ How comprehensively does this proposal deal with the whole challenge?
2) Relevance­ How directly relevant to this particular challenge is it?
3) Practicality­ To what degree can this be easily implemented?
4) Effective­ How effective is it in actually meeting and dealing with the challenge?
12. Have individuals select 1­2 key proposals for meeting each challenge (Use method similar to one suggested in step 5)
14. Relist individually and on large wall chart the key proposals under each challenge and number consecutively



| | | | | | | | | | | |
| --- | --- | --- | --- | --- | --- | --- | --- | --- | --- | --- |
| | | C1 | C2 | C3 | C4 | | | | | |
| | | 1 | 6 | 11 | 17 | | | | | |
| | | 2 | 7 | 12 | 18 | | | | | |
| | | 3 | 8 | 13 | 19 | | | | | |
| | | 4 | 9 | 14 | 20 | | | | | |
| | | 5 | 10 | 15 | 21 | | | | | |
III. CROSS GESTALTING INITIAL PROPOSALS INTO 4­7 PRACTICAL PROPOSAL ARENAS

15. Context cross gestalting:
l)Cross gestalting is a method of organizing data into overarching categories.
2)Cross Gestalting is a way of reflecting on rough data.
3)Cross Gestalting enables creative thinking by approaching the data in a new way.
16. Have group look across boxes and indicate with the same mark ( +, o,~ ,0 , , *) those ways which seem to group together or are related. Determine 4­7 groupings of the data.
31


17. Relist data under groupings. Determine the thrust of each practical proposa1 arena in terms of the data within it and name.

IV. WRITING PRACTICAL PROPOSALS FOR EFFI.CTIVELY MEETING EACH PROPOSAL

18. Context this step as writing proposals for the U.S.A. which will effectively meet the challenges which have been named. Work will be done in small groups, each group writing proposals for one challenge.
10. Count off by of proposa1 arenas and assign spaces to meet.
20. Talk through group procedures:
l) Review data by reading all the initial proposals listed in your
assigned proposal arena and listing them in your workbooks.
2)Pull together data into 1­4 proposals remembering that some items
of data may be separate parts of the same major proposal.
3)Create a 3­word title for each proposal.
4)Write a sentence for each proposal which clearly states it as a
practical plan of action. We, the citizens of in order to
meet effectively the challenges facing the U.S.A., propose a
____ which involves the _____ , and is to be implemented by means
of . . . . .

5) Refine, polish and put on butcher paper for guild plenary.

POSTLUDE ­ GUILD REPORTING PLENTARY OF THE PRACTICAL PROPOSALS

2l. Gather as a guild and sing; "America The Beautiful" and/or "A New Day." Post proposals in front of room.
22. Have each group read their proposal sentences.
23. Affirm the wisdom and work of the group.
24. Reflect on the proposals:
­What did1 you notice about these proposals? What caught your attention?
­Which proposals really seemed right to you? Where did the rubber
hit the road?
­Which proposals broke loose new possibilities for the future of
America?
­What could this community do to bring any of these off?
25. Prepare report for final plenary.
26. Send out tr plenary after singing "You're A Grand Old Flag".
SESSION II­A THE NEW STORY

The task of this guild is to articulate the images before which men will live for the next 200 years. This will be done through the creation of a song, story, symbol and slogan, The guild, as a total group, will first brainstorm basic images for each creation, Next the guild will divide into three groups, each holding i conversation to determine the central theme of their product. Individually, members of the groups will work to create initial constructs and designs. These will then be pulled together by the groups into one song, story, symbol and slogan. The guild will re-gather and present the products. Finally the dramatic presentation of these at the final Town Meeting Plenary will be created.


PRELUDE ­ TOTAL GUILD BRAINSTORM OF BASIC IMAGES AND THEMES

(20 1, Gather as a Guild and sing, "You're a Grand Old Flag." minutes) 2. Locate the workshop in the context of the total day.

Note that while this guild is creating the story, song, symbol and slogan the other guilds are writing proposals for meeting the economic, political and cultural challenges facing this nation.
4. Turn now to a brief brainstorm of images to get the total guild's initial insights in each of the four working arenas. (Assign scribes.)




5. Number off by threes and announce meeting spaces. Move into the three working groups after stating the time to re-gather as a guild for reporting ( 60 minutes).

GROUP 1 ­ CREATING A NEW SONG OF AMERICA

6. Spend the first 20 minutes doing a thorough brainstorm to get out many images and themes for a new song. Suggested questions:
­What events in human history have produced great songs?
­What do these events have in common?
­What recent events or events you anticipate have these common elements?
­Which events or themes mentioned would we want to include in a song? (limit to 4)
(Be sure to include data from guild brainstorm.)
7. Now brainstorm and select a tune:
­What are some great tunes or melodies?
­What tunes have you been whistling or humming lately?
­What qualities should be held in selecting a tune?
­Which one should we use?
8. Next move to work in small groups. Assign each group to write a verse on one of the events or themes selected to the tune selected. Individuals may write verses within the small groups. The verses can then be shared with the whole group, one selected, refined and put on butcher paper.
9. After 20 minutes re-gather as a total group. Each group reports by singing its verse, The verses should then be examined together and refined, Rewrite the total song in large letters on butcher paper for guild plenary.

GROUP 2 - CREATING A STORY OF THE COMMUNITY'S ROLE IN AMERICA'S HISTORY
6. During the first 20 minutes, brainstorm data for the story.
Suggested questions
­What stories about this community does America need to hear?
­What are stories about the correctness or this community?
Include stories from the past, thee present and the future direction of the community, Review and expand data from the guild brainstorm on the community's role in shaping America.
7. Suggest that the story have 3 paragraphs­­ 1)past, 2)present, 3) future.
Create lists of at least 3 points for each paragraph, but leave final selection for later.
8. Move to three smaller groups, one for each paragraph. Announce meeting space and 20 minutes working time, The task for each small group is to select three points and write sentences. Read sentences aloud to group, refine and put on butcher paper.
9. Re-gather as total group. Read paragraphs and refine where necessary. Select reported for plenary and write total story on butcher paper.

GROIJP 3 ­ CREATING A SYMBOL AND SLOGAN FOR THE COMMUNITY
IN THE BICENTENNIAL ERA

6. During the first 10 minutes brainstorm data for symbol, and include data from guild brainstorm.
Suggested questions:
­What symbols have stood through history. (Draw on board.)
­What qualities have made them stand?
­What values need to be held in creating a symbol of this community in the Bi-Centennial Era?
7. Have each individual draw a symbol in dark lines on 8 1/2 by 11 sheet of paper. Tape to front wall of room.
Suggested questions:
­Which symbols immediately caught your eye?
­What story is suggested by any one of these symbols?
As a group, select a symbol or combine elements of different ones. Assign one member to draw the final symbol on a large sheet of paper.
8. Brainstorm suggestions for the slogan, including data from guild brainstorm.
Suggested questions:
­What have been some great slogans of American history?
­What qualities made them great?
­What values need to be held in a slogan for this community in the Bi-Centennial Era?
9. Each individual write a slogan and read aloud to group, Ask
­Which captured your imagination?
­What elements of any of these would capture the attention and participation of this community in building America's future?
As a group agree on the one slogan and write on butcher paper for the guild plenary.



POSTLUDE ­ GUILD REPORTING PLENARY ­ FINAL SELECTION

10. Re-gather as a total guild. Sing again "Grand Night for Singing," and "I'm a Yankee Doodle Dandy."
11. Each group report dramatically ­­ l)song 2)story 3) symbol and slogan.
12. Reflect on the work;
­What caught your eye? ear?
­What surprised you?
­What seemed right? what would capture the attention of others in this community? in America?
13. Confirm the final selection.
14. Plan a dramatic presentation by the total guild to the total Town Meeting at the Closing Plenary.
(Practice the song, rehearse the slogan, prepare a way to tie the four elements into one drama.)
15. Make any necessary announcements and send out to final plenary by singing, "America the Beautiful."