CA THE I NSTITUTE OF CULTURAL AFFAIRS

The Institute of Cultural Affairs is an intra­global research, training and demonstration group concerned with the human factor in world development. The ICA, a non­profit organization, presently offers programs in 29 nations. Among these programs are one day Town Meetings, community reformulation projects called Human Development Projects and other specialized consultations and seminars. The ICA receives funding from government agencies, foundations, organizations and concerned individuals.


4750 North Shendan 71 Rue herckmans 13 54nkli S'reet 17 Jalan Nuri 16 Kimhrk~ Rd. Chic;tgo. 111. 1060 Brusseb Byculb. Bombay Singapurc IS. N 4A
USA 60610 Belgium Indw 400001 Singapore Kowloon. Hong Kong
1(1: J12/769­JdJ5 ,.1 J22/5JR­5R92 ,,1 37 J711 ~rl 407772 ,./: J­677.695

an e.rtraorrlinarr moment of historr. Hers is a tirrre betu een past
images of womanhood and the
new ll clefnerl role of the
woman of the fulure. Whether
urhan or rural u omen ar ross the
u or/cl are raising the same
questions of /ulfrlhrrent and
signifr ant engagement.
global women's forum is intended
FOR the woman who has asked herself if what she's doing is really making a difference.
FOR the woman whose priorities get more complex every day.
FOR the woman who is too busy for one more meeting.
FOR the woman who wants perspective on all the things she's doing.


FOR the woman who wants to know how to be more effective.
FOR the woman who suddenly discovers that she needs managerial skills.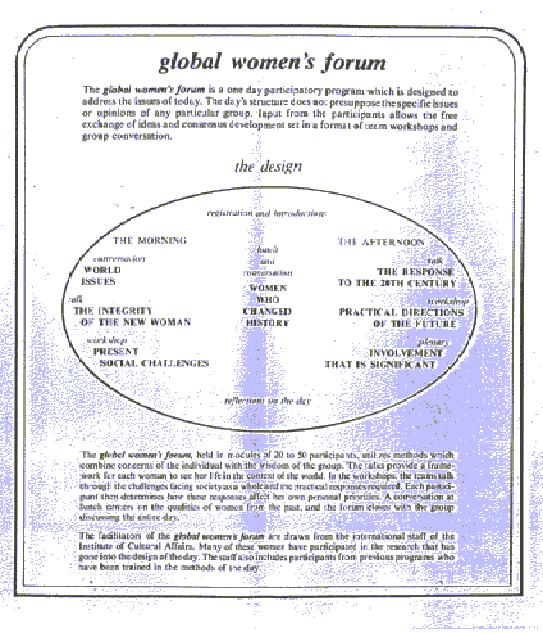 Tn r ears of u ork u ith
u omen s groups and the
rle~relrJptrtr~nt q/grrJ~q'mr~thrJrls
has re.~ul/ecl in the glooal women's forum. Lounr herl in 1975 rhe prograrrr has heen heh/ in 25
nations u ith ~, orrren of all ages in major r itie' and rural l~i//age~.
The enthusiasm of the participants is a mark of the program.
From the standpoint of organization, I found this an excellent and purposeful meetin g. -Ho. ran Ma ~ ~aL h user / ~
I will never apin be afraid to speak al a public meeting. -MaH``a`/a InLha
The global women's Jorunn is a great opportunity to share and benefit from the experience and expertise of other women from all phases of life.
-E~an~lrJn IHinois


The question of priorifies is one which I have never thought of in quite the way it is approached in the global women's forum. -MinneapoH' Minnr``J/a
After spending these eight hours, I'm surprised at the ground we covered. I have a brand new way to look at my involvements. -Den.er, C`,h,ra~h
I thought the world was very big. Now my mind is changed. I see the world
looks like a village. -A,,h. Japa~