INTRODUCTION to the NEW RELIGIOUS MODE (NRM)
The New Religious Mode is the first of several collections in which The Ecumenical Institute (EI) explored, mapped and celebrated the interior lives of people. Research was done to prepare people for life in the midst of increasing global crises of the 1960's, which shattered the composure of human beings sensitive to life in a new global reality. Adapted from IMAGE: journal of the ecumenical institute, number 9, June 1970.
Other collections to be included in the series are: ❖  Spirit Methods: Spirit Conversations, Rites & Rituals, Time & Space Designs, Life Questions    ❖  The Other World: The Land of Mystery, The River of Consciousness, The Mountain of Care, The Sea of Tranquility  ❖  Human Journeying Constructs: The Odyssey, Profound Humanness, Vocational Journey Lab, Leadership Options, Dark Night/Long March
The New Religious Mode  – The given reality of life

Consciousness of consciousness of consciousness…"the self is a relation which in relating itself to itself, and willing itself to be itself, grounds itself transparently in the power that posits it." (Sickness Unto Death, Søren Kierkegaard p.147).
Put in sections from Facilitative Leadership, get permission from Jean Watts 
"The situation is never the problem."The Ecumenical Institute
The community of the Ecumenical Institute engaged in intensive and systematic research, grounding in everyday experience, the classical categories of Christian traditional language: The Solitaries ( Meditation, Contemplation, Prayer), The Journeys (Knowing, Being, Doing) and The Corporates (Poverty, Chastity, Obedience).
The New Religious Mode re-contextualizes traditional religious language in a secular context. The Ecumenical Institute undertook a depth examination of: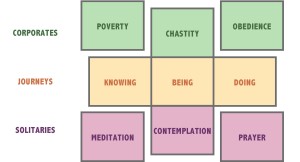 CORPORATES – Engaged life, external signs of an interior posture. Sociality through the practices of poverty, chastity and obedience.
Poverty – Detachment. No thing defines a human being
Chastity  – To will one thing
Obedience – Engagement
The JOURNEYS – You see all that there is to see and you dare to embody
that – the intensification of all a person knows, through the journey of transparent knowing doing and being. (Jim Campbell)
Transparent KNOWING – Ultimate lucidity
Transparent BEING – Sheer consciousness, raw creativity
Transparent DOING  – How it is I become my doing
The SOLITARIES – Interior states of an Individual. Dialogue with interior community through the solitary practices of meditation, contemplation and prayer.
Meditation – Cultivation of the interior life. Dialogue with interior messages inside
Contemplation – Encounter with all that is, the ultimate mystery of life
Prayer – Action before the action. Freedom. Deep resolve in creating something out of nothing
IMAGE – Journal of the Ecumenical Institute, Number 09, June 1970: The Solitary Life of the Secular Religious – New Religious Mode, focus on the Solitary Office, Meditation, Contemplation and Prayer.   https://wedgeblade.net/gold_path/data/hisj/10106201.htm
The New Religious Mode Charts
There are individual charts for each state of the journey. The charts are tools to help us bring self-consciousness to our interior reality…to illuminate our consciousness… they are a symbol of the fact that everyone is on a journey. (Jim Campbell)
NOTE: Find links to the charts in Resources.